Official Website of the City of Pass Christian, MS.
Welcome to pass-christian.com the Only Official Website of the City of Pass Christian, MS.
---
Outage and Boil Water Notice. Jackson Ave.
This will only affect homes along Jackson Ave.
Beginning today 9/17 there will be a water outage for several hours and then a boil water advisory will be in effect. Residents will be notified by phone when the water is again safe to drink.
Notice of Historic Preservation Commission
Special Meeting
Wednesday, September 18, 2019, 6pm
Hancock Bank Community Building
113 Davis Avenue, Pass Christian, MS 39571
---
---
Football and Cheer Photos: Individual and team
Raiders Football 2019 Season Schedule
Schedule page 1, page 2, pickup games
---
This is an opportunity to meet members of the Pass Christian Police Department and discuss issues and concerns about the City of Pass Christian.
Upcoming dates:
October 2nd at Fill up With Billups on Scenic Dr. at 8:30 AM
Refreshments will be available during the community event.
The Public is invited.
---
Cruisin' the Coast: October 6-13th 2019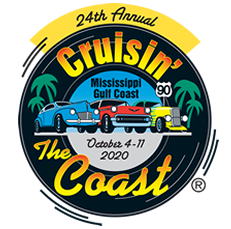 Pass Christian Events:
Thursday, October 10
Registration and all Cruisin' Venues are open 9 a.m.-5 p.m. Sites with bands: Bay St. Louis, Pass Christian, Gulfport Cruise Central, Edgewater Mall, D'Iberville/Scarlet Pearl Casino Resort, Ocean Springs, Pascagoula
2020 Registration open noon-5 p.m.
Courtney Hansen appearance: Pass Christian, 10 a.m.-noon
Pass Christian

11 a.m.-Noon – Brandie
1-2 p.m. – Tyme
3-4:30 p.m. – Na Na Sha
Friday, October 11
Registration and all Cruisin' Venues are open 9 a.m.-5 p.m. Sites with bands: Bay St. Louis, Pass Christian, Gulfport Cruise Central, Edgewater Mall, D'Iberville/Scarlet Pearl Casino Resort, Ocean Springs, Pascagoula
"Pass In The Night," 5-9 p.m., Pass Christian, Live entertainment by Easy Street
Pass Christian

11 a.m.-Noon – Deuce Coupe
1-2 p.m. – Pat Murphy & Sippiana Soul
3-4:30 p.m. – Vince Vance & The Valiants
Saturday, October 12
All Cruisin' Venues are open 9 a.m.-5 p.m. Sites with bands: Bay St. Louis, Pass Christian, Gulfport Cruise Central, Edgewater Mall, D'Iberville/Scarlet Pearl Casino Resort, Ocean Springs, Pascagoula
2019 Registration, 9 a.m.-noon
2020 Registration, 9 a.m.-5 p.m.
Pass Christian

11 a.m.-Noon – Garry Wesley
1-2 p.m. – Tommy Morse Band
3-4:30 p.m. – Bennie & The Jets (Rocketman Tribute)
---
Short-Term Rental Ordinance 
Ordinance Approved by the Board of Aldermen on June 18, 2019
Ordinance goes into effect on July 19, 2019
90-day Grace Period: Applications must be submitted by October 16, 2019
Short-Term Rental Forms:
Short-Term Rental Complaint Form